By Restb.ai on 6 October 2016
A few weeks ago, Restb had the great fortune to be selected as one of 15 promising Barcelona startups to attend TechCrunch Disrupt 2016 in San Francisco. While it was an honor to attend, we had no idea what was about to unfold.
The day began like any other before a big conference - scrambling to move all our stuff from the hotel to the demo floor and finalize investor meetings.
Everything ready for @TechCrunch #SFDisrupt for the @restbco Team! #imagerecognition #ArtificialIntelligence pic.twitter.com/ZmLWoUXtko

— Adriana Freitas (@adrianafreitas) September 9, 2016
There are literally hundreds of startups squeezed into the Pier 48 convention center, shoulder-to-shoulder fighting for face time with potential clients, investors and other relevant passerby. So, you can imagine our surprise when were selected without warning to one of the most prominent pitch contests in the world: Startup Battlefield
What is Startup Battlefield?
TechCrunch's semi-annual Startup Battlefield brings the world's top early stage startups together on one stage to compete for the coveted Disrupt Cup, a $50,000 prize, and the attention of media and investors. The judges include TechCrunch editors as well as top VCs and entrepreneurs, and past winners include names like Dropbox, Mint, Yammer and many more.
Needless to say, we'rein great company →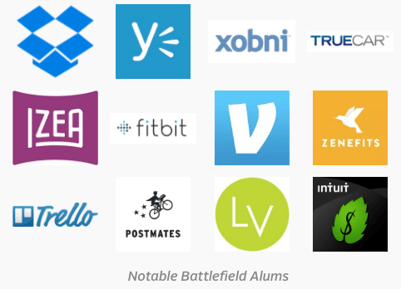 Just to be nominated for the prestigious Battlefield contest proves that our technology is among the most disruptive in the world. The investment community has certainly increased their appetite for artificial intelligence and computer vision deal flow and this week was no different. One investor even joked that adding ".ai" to your startup's moniker will increase your fundraising total by 10%. Restb.ai it is!
But in all seriousness, the experience of competing at Disrupt SF, being nominated for Startup Battlefield, and gaining immeasurable feedback from the investment community far exceeded our expectations of the trip.
TechCrunch Features Restb
As if it couldn't get any better, TechCrunch published a featured article on Restb the same day Disrupt SF kicked off drawing an unprecedented spike in traffic and inquires into restb.ai.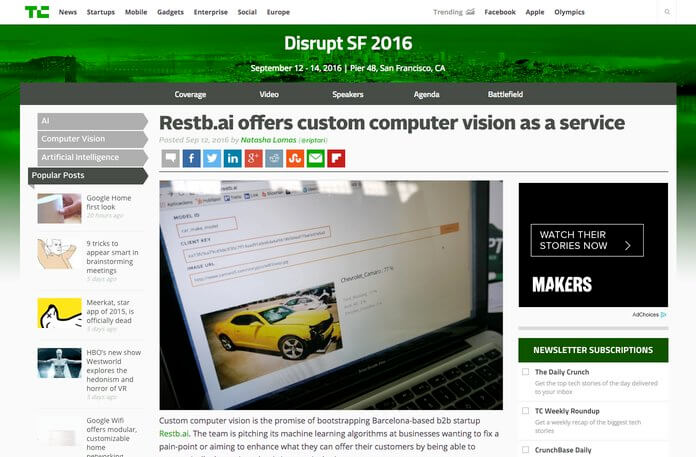 While it was an incredible experience, we have to admit, we're excited to be back in Barcelona working on the Restb platform!
Here are some more links to Disrupt SF 2016:
If you'd like to hear more about our Startup Battlefield experience at TechCrunch Disrupt SF or discuss the potential of the Restb technology for your business, please drop us a line here.