By Maya Makarem on 27 October 2021
Today, company owners understand that digital transformation and technological advancement are the key drivers of success for all players across all industries - without exception. Artificial Intelligence, in particular, is a booming trend visible across all thriving enterprises, and it continues to gain traction with its ability to improve a company's performance both internally and externally.
In our previous research, we narrowed down the scope and dove into the real estate world to reveal some of the many ways AI can enhance different aspects of the industry. Although real estate is still in the early stages of deploying AI services, the application of this technology widely enriches and simplifies several essential aspects of the craft including property valuation, lead generation, market analysis, customer preferences, data collection and analysis, and more.
In this post, I'd like to highlight a crucial advantage of AI in the real estate industry that is rarely leveraged yet remains utterly important: using Artificial Intelligence to enhance marketing for both buying and selling agents.
Marketing in Real Estate
Real estate continues to be one of the world's most dynamic businesses, which is why keeping up with the trends of successful marketing is essential to attract attention and stand out in a crowd of endless competition. Selling agents are aware of the importance of visually appealing marketing material - particularly brochures, social ads, and videos; however, there is always a challenge in creating the appropriate material targeted to their OWN audience and putting it out there in the best way possible while staying relevant and up-to-date amid heavy digital traffic.
Adding AI to the mix can help automate all these tasks in a creative, complex and appealing way, and relieve agents of this added burden.
Let's take an example from a seller's perspective to better understand the advantages.
AI to help an agent sell a home
When an agent lists a home for sale, it's common practice that they'll create social ads, brochures and listing videos to help them market the property. Unfortunately, this process can be quite time intensive. The average property features at least 25 photos, with some MLSs even allowing up to 100 images! How is an agent supposed to know what photos to use to best target potential buyers? Sifting through a wide range of images and determining which are the best to market their property is no easy task!
In a traditional listing, the first or default image is typically the front of the home, but outside of that, the only way to know each image's contents is by manually looking at each photo. This is where AI comes in. AI can instantly and automatically categorize each image based on the part of the home it portrays (kitchen, front view, backyard, etc.). However, it gets even better! If you think about listings you've seen in the past, you likely recall that it's common for there to be more than one photo of the different rooms of the home. AI not only categorizes the images, but it can also determine the "best" photo of each room.
Once that's done, AI can also suggest templates and layouts of how to organize the selected images, add appropriate content, and build a complete format for what can be published to target-specific buyer personas. Different types of content can be created and pushed to the users who will find it most appealing. For prospective home buyers looking to be the life of the party, let's make sure to highlight the expansive backyard and its outdoor grill that are perfect for hosting friends. For the aspiring chefs, let's highlight the expansive kitchen, updated appliances and spacious dining room. Creating a single piece of marketing material used to be a time-consuming chore for agents, but with AI, a variety of complex and targeted content can be created in seconds!
AI to help an agent market homes to buyers
Another marketing aspect that is valuable to agents is generating new leads. Working with existing clients consumes the majority of an agent's time, meaning they don't usually have the time or resources to attract new prospects. They're constantly being told they need to build and maintain a robust social presence, but realistically, many agents don't even know where to begin. They have a wealth of knowledge on working with clients to find their dream home, but unfortunately, they lack the expertise to market themselves appropriately on these new digital channels.
With AI, complex content can be automatically created in real time, pushed out and targeted to their appropriate connections, and marketed to new leads with minimal manual effort involved.
Below is an example of a marketing interface run by AI technology that reduces the time to create ads or social content to mere seconds.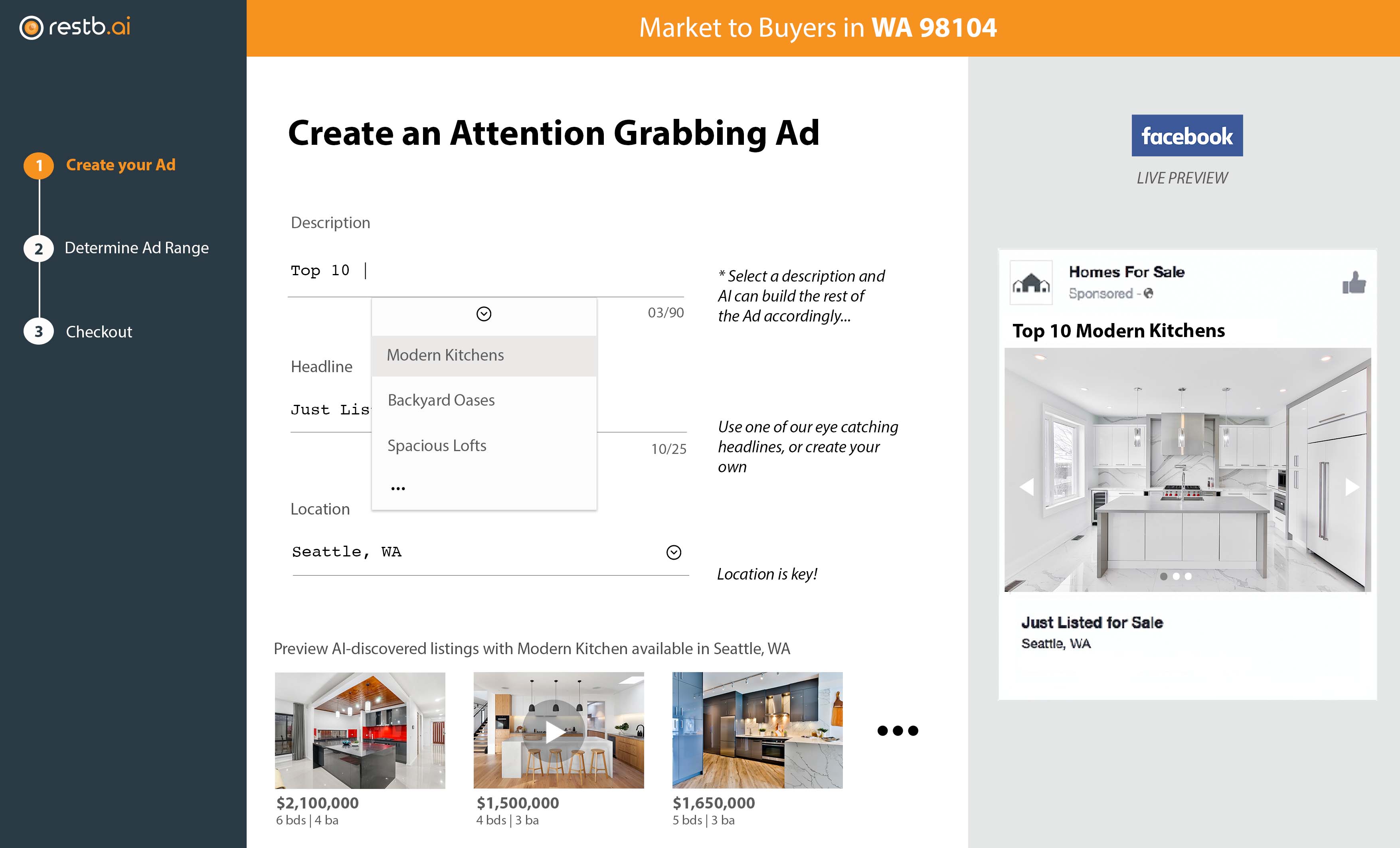 In this example, an agent only needs to specify the type of ad they want to create. They can create content focused on homes with modern kitchens, luxurious backyards, fix and flip potential or any of a hundred other aspects that appeal to specific buyers. Once selected, AI identifies all properties featuring the aspect the agent wants to highlight and selects the most visually engaging images to display. I repeat, AI instantly and automatically searches your market to find the relevant properties! An advertisement is instantly generated with an automated title, headline and location. All an agent needs to do is select the desired budget and they're good to go! In a few seconds, AI enables agents to easily portray themselves as masters of their market while freeing up their time to focus on the part of their job they enjoy most - working with their clients.
Importance of images
To retain control and credibility in such a dynamic and competitive industry, buying and selling agents need to do everything in their power to stay top of mind for their potential clients. The first and most important impression many people make is based on the content they see before they ever speak with you. For this reason, agents need to remain ahead of the game and utilize all the tools available to ensure they are catching the attention of their target audience. Creating successful marketing ads and rich, visually appealing content is difficult, but for agents who want to rise above the competition, AI enables anyone to deliver automated, personalized, and targeted content in an effortless way.
Ready to untape the full potential of your marketing efforts?
Contact one of our professionals to discover how AI can help YOU!