By Gabriella Granig on 7 March 2023
With transactions slowing down, agents are looking for more innovative ways to market their properties quickly and effectively. However, creating engaging content can be time-consuming beyond many agents' expertise. Fortunately, AI is here to help!

Images and videos play a crucial role in marketing properties, and AI solutions that can read and analyze these digital assets can automate the creation of complex and creative marketing collateral. Let's explore a few ways in which AI makes this possible.

Automatic room type categorization and best photo selection
AI can help by categorizing a property's images by the room type or home space depicted in the photo. While seemingly simple, MLSs report that only 5-10% of agents populate these image-level details on each photo, which makes it difficult to leverage this information at scale. Fortunately, AI can tag an entire property's images in seconds! When HomeJab analyzed a market using this technology, they could quickly and easily determine the most common types of photos featured within a listing.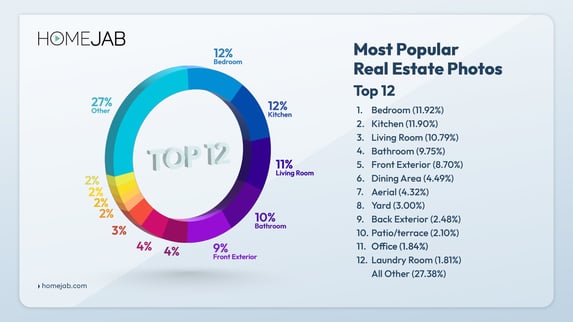 Recap of the HomeJab Top 12 most popular real estate photos used to sell homes
However, there are still some challenges leveraging this data for some types of marketing. Imagine you want to automatically pull up a photo of a property's kitchen. In this theoretical scenario, let's assume there are four photos of the kitchen.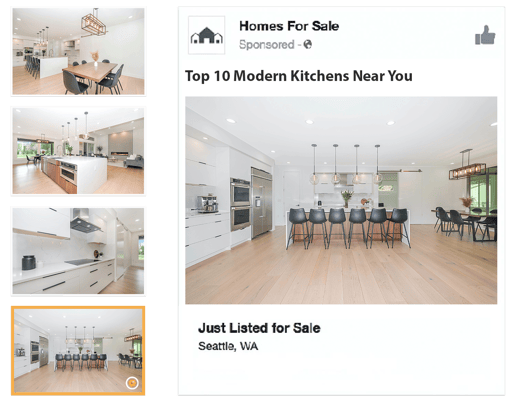 Restb.ai image tagging technology selecting the best of multiple listing images
While the AI can determine all the photos are of the kitchen, a photo that's a close-up of a stovetop isn't that helpful. For this reason, we developed an advanced AI solution that identifies the room type of each room and determines the "best" photo of each home space. This key enhancement has proven to be a game-changer and makes the process of automatically selecting photos much easier and more efficient for real estate companies looking to intelligently work with their photos.
Identifying valuable features
In addition to classifying a room, AI can identify the features or components of a property. Over the past seven years, Restb.ai's computer vision APIs have been trained to detect over 300+ interior and exterior property features. These include items like a pool or deck, that may already be specified in a listing, as well as more granular items like the brand of a particular appliance or the color of a kitchen. It can even identify more abstract concepts like styles (modern, rustic, industrial, etc.) and a property's quality or condition. Once these elements are identified, it makes it trivial to use them in marketing material to highlight the exact photo where they appear.
AI technology identifying kitchen features
Helping clients sell homes faster
Another way AI can help sell properties faster is by highlighting particular photos that can be enhanced. Our data has shown that staged properties, whether virtually or physically staged, can reduce the days in the market of a listing by up to 40%. At the same time, there is a 20% higher chance the property will be sold within ten days if it shows furnished images. AI can easily highlight when a property is unfurnished and suggest virtual staging.

Virtual staging of an unfurnished listing photo
Similarly, our studies show that up to 20% of property photos feature overcast skies. While we can't control the weather, AI can highlight when the weather in a property's photos isn't ideal and suggest alternatives. Analyzing various MLSs, we've seen 20% of listings have at least some overcast photos, and more than half of those have the majority of images with overcast skies. When comparing how these properties perform, due to being less appealing than a beautiful blue sky, we measured that properties with more overcast skies than other types of skies take up to more than 2x longer to sell after compared to properties without overcast photos.
Extracting property photos from 360 tours
Virtual tours and 360 videos are other growing trends in real estate. While these tools can engage home buyers to interact with properties, it can be challenging to use the images or details within the images in an effective way. With Restb.ai's innovative "image slicing" technology, 360 tours of properties can be effortlessly transformed into individual property photos, giving a clearer and more precise depiction of the space. Now agents can offer their clients the best photos from within their 360 tours to make it even easier to market their property.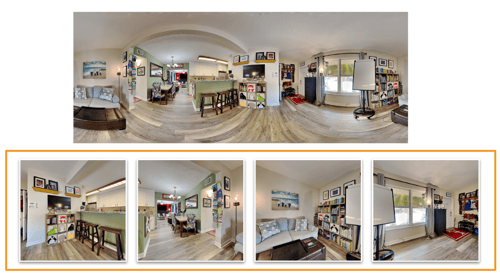 360 tour transformed into four individual photos
Creating complex and engaging marketing assets
So what does this mean in simple terms?

When an agent lists a home for sale, it's common practice to create social ads, brochures, and listing videos to help market the property. Unfortunately, this process can be quite a time intensive as the average property features more than 25 photos! How is an agent supposed to know what photos to use to best target potential buyers? Thanks to the previously described capabilities of AI, they don't have to.

AI can instantly and automatically categorize each image based on the part of the home it portrays (kitchen, front view, backyard, etc.), identify its features, and determine the "best" photo of each room or feature. Once done, AI can also suggest templates and layouts to organize the selected images, add appropriate content, and build a complete format for what can be published to target-specific buyer personas. If there are any issues (unfurnished, poor quality, overcast skies, etc.) with any of the images, AI can highlight them and suggest ways to improve them.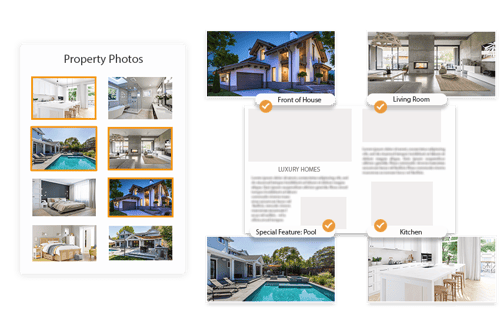 AI technology selecting the best photos of a property to advertise
While this may seem like the future, innovative companies like ListReports and Studeo are using Restb.ai's AI technologies to improve and enhance their ability to create the highest quality marketing content. However, with the rapid advances happening within AI, this is only beginning. Don't miss out on how this technology can impact and help your business.
CLICK HERE to request a demo or contact our team to find out about how our artificial intelligence technology can enhance your company!