By Restb.ai on Nov 14, 2017 2:47:00 PM
Image Recognition is both a new and a relatively old technology. 40 years ago it was merely the application of mathematics and software to distinguish an object in a group of images. Fast forward to today and the sophistication of the technology has increased exponentially since that time.
Now, Artificial Intelligence (AI) software, and the vast repositories of images with which to train AI, has advanced the detection of grainy smudges to recognition of animals in a variety of poses, facial expressions and even the settings in which objects reside. Computer Vision is a combination of AI and Image Recognition.
Keeping up with the advances and applications of Computer Vision and Image Recognition can seem like a full-time job. Blogs about the topic have become a rightful part of the canon of literature about developments.
Here are some of Restb.ai's favorite blogs on Image Recognition.
Our criteria for the list include:
- Relevance of blog posts to the topics of Image Recognition and Computer Vision;
- Timeliness and frequency of posts;
- How commercially-driven the posts are (that is, is it an image recognition vendor flogging its wares or a genuine contribution to news and updates about the topic?);
- How long the blog has been running;
- Readability: Though perhaps not written for a non-technical audience, the posts take the time to explain or provide references for foundational knowledge about the topic.
Our list includes:

10. Wolfram - The author of one of the best known computational modeling software packages, Mathematica, Stephen Wolfram's company maintains an abiding interest in image recognition. The blog category on image recognition is playful and exploratory, and also serves as a record for his and his company's explorations on the topic. Highly recommended.
9. Orbital Insight - The company collects and sifts through images from satellites, drones, balloons, and other unmanned aerial vehicles (UAVs). Orbital Insight then collates the data into information that governments and businesses can use to aid decisions affecting large geographies. Their blog features applications of their image processing technology that have benefited decision makers around the world.
8. the Serious Computer Vision Blog - Don't let the title fool you, as this blog is actually light-hearted and funny. Not only is it educational in its content, but it also links to external sources, so you have further references to inform you. Despite posting once or twice a month, the authors manage to write engaging and relevant content on everything image recognition, computer vision and A.I, related.
7. Computer Vision for Dummies - The dummies in question here are computer vision practitioners in the field who like sharing insights into computer vision developments. Though non-mathematical, it's not for the faint of heart. Nor is it updated but a few times each year. Still, geeks adore the site.
6. Mighty AI - Mighty AI specializes in building and providing visual data sets to automotive companies invested in driverless vehicles. Though the blog tends to be more of a news column about the amazing accomplishments the company is achieving, its frequent posts give the reader a feeling for what's going on in the fast-paced race for computer vision for autonomous vehicles.
5. Wide Eyes Technologies - This Italian fast-fashion-focused blog can be summarized in two words: very stylish! Though the blog itself is not always kept up to date, check out the News section for the latest goings-on with the company and with Computer Vision in the fashion industry -- if for no other reason than everyone looks so stylish!
4. Style.ai - The Israeli-based "visual social commerce" vendor has an up-to-date blog that focuses on how consumers can use computer vision on their mobile devices to shop for styles they've seen elsewhere. A lot of thought has gone into the visuals on the website. Worth the visit.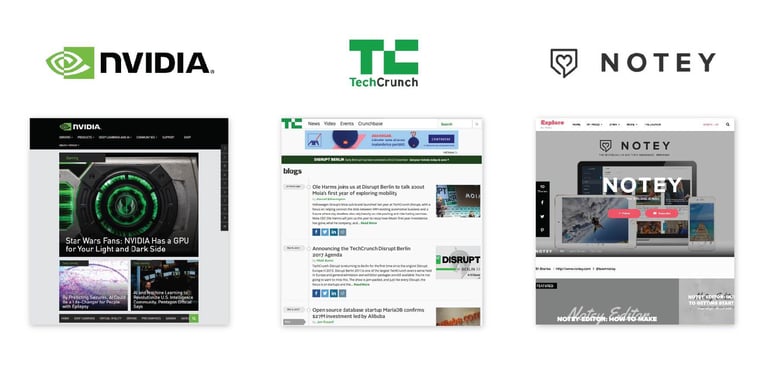 3. The Nvidia blog - The blog does a nice job of explaining to consumers in non-technical terms how computer vision is being applied across sectors, including hospitality, retail and sports. Though the category is updated every few weeks, its discussions remain relevant.
2. Techcrunch - The online magazine about new and emerging technologies does a great job of keeping up with goings-on in the development of computer vision applications. Though they only update their column on computer vision a few times each month, the writing is crisp and informative.
1. Notey - Notey is a highly readable and lively aggregation of articles from around the internet about computer vision. Writers scan developments in the computer vision and image recognition space across sectors to publish attention-grabbing pieces like, "Pornhub's Virgin AI Wants to Make Searching For Porn Less Hard" and "This Algorithm Cleverly Makes 3D Objects from Tiny 2D Images." The site is the most frequently updated of all those in the survey.
Read more about Image Recognition.