By Restb.ai on Jan 11, 2018 4:01:20 PM
Ready or Not, Voice Search Comes to Property Listings
Voice search is less a trend than a wave, a tsunami that will wash over online real estate property searches. The technology will wipe out online contenders who choose not to keep up with the wants and needs of their savvy customers.
Voice search is becoming popular at a rapid rate. By March 2016, 55% of teens and 41% of adults already used voice search. In May 2016, Google CEO Sundar Pichai cited that 20% of all searches were voice.
Amazon Alexa, Apple Siri, Google Assistant, and Microsoft Cortana are changing the way people interact with computers. Computers will respond to the way people pose questions and expect answers. So, the change means webmasters will have to up their Search Engine Optimization (SEO) game, too.
The fastest and most effective way to keep up with the revolution in search technology is through a specialized image recognition product, like Restb.ai's plug-n-play software. Restb.ai's solution addresses the most pressing issues confronting property websites unprepared for the voice search revolution, including:
- Following Informal Speech Patterns;
- Investing in long-tail keyword searches;
- Optimizing for mobile searches.
Follow Informal Speech Patterns
For decades, computer users have contorted their search for information using stilted phrases and words that don't come to them. The effort results in numerous rewrites of queries, as users refine their searches based on how relevant results are.
Voice search gives power back to users. Moreover, the accuracy of voice search has increased since 2012, from 20% errors in comprehension of what someone says to 5% today.
So, instead of typing an awkward query like, "Barcelona two-bedroom fireplace," users are saying into their device, "I need a two-bedroom flat with a fireplace and hardwood floor overlooking water in Barcelona."
Investing in long-tail keyword searches
For the past year, short, generalized keyword searches have become "long-tail" searches. And, as seen in the previous example, typewritten "short-tail" searches are slowly being replaced by voice commands.
Website SEO strategies have to adjust to the new normal. Image tags and contexts on millions of property images must be real estate-specific and spare no space for responses that are not relevant to what customers ask for. In our example, it's ok for a website to display pictures of properties from which residents can see rivers or lakes; but, it's not ok to display a hot tub filled with water on a patio as an answer to the query. Property portals will need a level of intelligence that knows rivers and lakes contain water, and understand what the customer means in her search.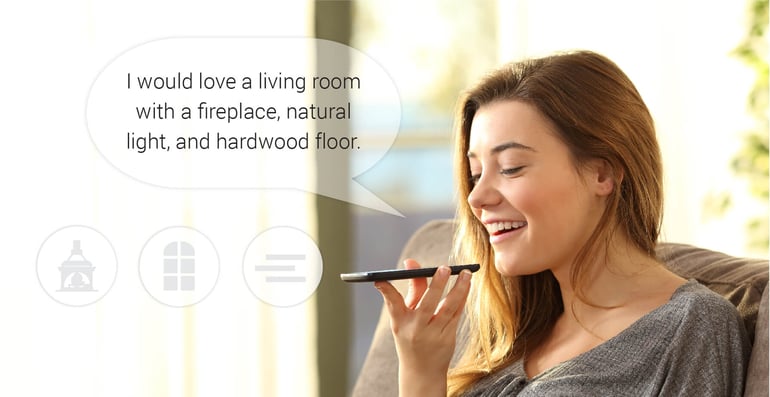 Optimizing for mobile searches
Fifty percent of all online searches now occur through mobile devices. Managers of online property listings need to optimize search results to display images that match voice queries. Moreover, the images need to load for viewing fast! Otherwise, users will close the real estate website or app and move on to the next search platform.
Specialized software like Restb.ai's website plug-in displays image results in less than a second. Generic applications, like Google Vision or Amazon Rekognition, may take up to one to two seconds. Further, the developers at Restb.ai have designed and trained the AI underpinning Restb.ai's image recognition solution specifically for real estate. The software knows the settings and objects that real estate agents and customers are familiar with and responds without extraneous answers.
For instance, Restb.ai already knows a table or pet in a digital image of a property is not important to report to a customer. Webmasters have to continually train generic applications about the relevance of all the objects in real estate settings. The lack of prejudice slows response times and frustrates users.
Restb.ai has been preparing its plug-n-play image recognition AI since 2012. It is a mature, robust, easy-to-install solution that will boost the SEO rankings of any real estate property website. It will humanize website searches, target properties as only a professional is able, and display accurate results in an instant. Restb.ai readies online property listings for the digital frontier of voice search.
Read more about Image Recognition.