By Nathan Brannen on 5 July 2023
Real estate's digital landscape is rapidly evolving with two interconnected technologies creating transformative waves within the real estate industry: Computer Vision and Artificial Intelligence (AI).
These game-changing technologies are shifting paradigms, enabling real estate professionals to interpret and utilize data in ways previously unimaginable ­– revolutionizing real estate both today and in the future.
Computer vision and AI are not just creating a ripple, but are enabling a tsunami of change. As a real estate professional, the ability to understand and utilize these technologies could well be the difference between riding on top of the wave or being swept away by it.
What is computer vision?
Computer vision, a subset of AI, fundamentally changes how we interact with and interpret visual data. It's an AI technology that "teaches" machines to understand the visual world, similar to a human, by translating images into structured data points that can be analyzed and used.
Real estate is a visually driven industry. Decisions throughout all verticals of real estate are made by looking at listing photos, virtual tours, 3D models and videos. However, while it may only take a human a minute to review all the images of a listing, it quickly becomes unscalable for a single person to analyze all the images of every property in an entire market. Thus, computer vision's ability to extract valuable, actionable insights from these digital assets, at scale, represents a pivotal breakthrough in our industry.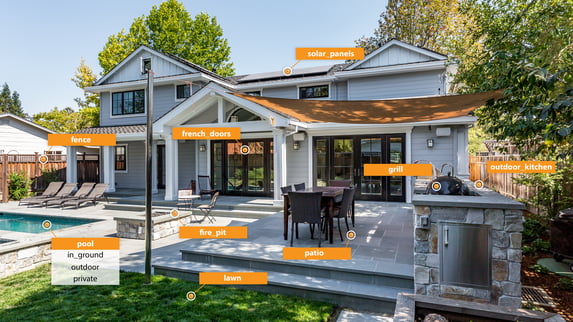 Computer vision, a subset of AI, fundamentally changes how we interact with and interpret visual data.
Understanding the role of AI
AI, the broader technology under which computer vision falls, adds another layer of value. Its capacity for learning and adaptation means that these systems become more intelligent and effective with more use.
In real estate, this means predictive analytics that can forecast market trends, machine learning models that automate property valuations, natural language processing tools that generate compelling property descriptions and image tagging that unlock new data from the photos agents upload for their listings.
Today, both computer vision and AI are already significantly impacting the real estate industry. They're streamlining processes, providing more precise data, enhancing customer service, and even opening new avenues for marketing and sales. From speeding up the listing process with auto-populated property details to providing a more friendly experience to potential buyers through immersive search, computer vision and AI are reshaping the entire process for listing creation and promotion.
Examples of computer vision in real estate today
Auto-tagging for Fast, Comprehensive Listing Uploads
Computer vision is being used for image tagging, or the ability to extract details about a property from its listing photos. Everything from the basics, like the room depicted in each image, to the more advanced, like a property's features, mechanicals and architectural style, can be instantly analyzed. Restb.ai provides this technology to MLSs, automating the listing process by auto-populating standardized fields, tagging each photo and feature, writing individual photo captions and creating powerful property descriptions for agents to edit, select, and publish instantly.
Benefit: This new technology significantly reduces the time it takes to upload and create a new listing. Instead of having to scan hundreds of fields and checkboxes, agents can simply review and edit a pre-filled listing form. Most importantly, like all Restb.ai solutions, the agents remain in control of the final posting of all content before uploading. Additionally, our analysis has shown that AI helps agents add 30-50% more features to each property, creating a more robust, data-rich set of information for the MLS that improves future searches.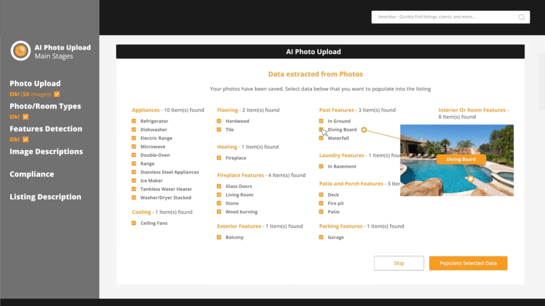 Auto-tagging of the image of a living room.
Automated Photo Compliance
Another solution that Restb.ai provides MLSs is photo compliance. It leverages computer vision to automatically scan images for MLS/association rules and regulations violations. While it is infeasible for humans to quickly and efficiently review the multitude of photos uploaded every day, AI can instantly detect people, branding, watermarks, artificial text, duplicate photos, and more.
Benefit: A built-in compliance feature significantly reduces the risk of fines or suspensions and saves compliance staff the time and effort it takes to review each image manually. With each potential violation being flagged immediately, it allows staff to only spend effort reviewing the less than 1% of images that may be problematic. Furthermore, it ensures a more consistent and timely enforcement of rules, which results in a cleaner and more compliant MLS dataset.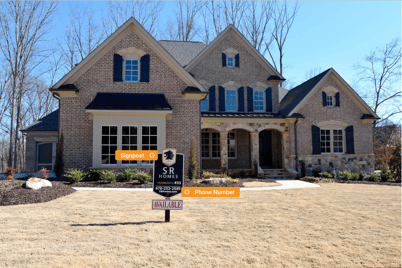 Automated photo compliance.
Automated Property Descriptions
Thanks to advances in Large Language Models (LLMs) and Natural Language Processing (NLP), AI can now generate unique, captivating, and SEO-optimized property descriptions. When combined with the unique data and visual insights computer vision can extract from photos, these descriptions become even more powerful. Moreover, the AI can also be trained to understand U.S. Fair Housing Laws and MLS rules and guidelines, such as word counts, to ensure that every AI-generated description is compliant.
Benefits: While many companies are popping up with new AI-powered solutions, MLSs powered by Restb.ai have an ongoing market and competitive advantage versus newer solutions. With a more than five-year head start, it is theoretically impossible for another computer vision firm to "catch up" to Restb.ai's advantage of being first to market years before their competitors. In addition, by remaining the cutting-edge solution, agents and consumers receive responsible AI, dramatically reducing liability risks.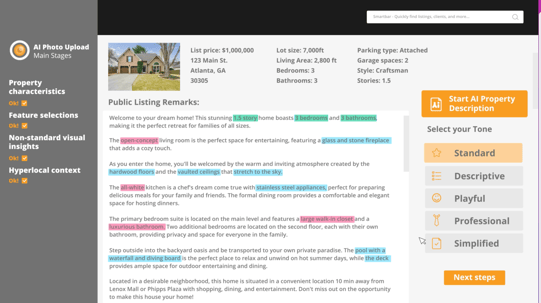 Automated property description of a photo upload.
Instant Property Matching Through Visual Search
Restb.ai empowers MLSs to use computer vision to power image-based property searches based on visual similarities. Users can upload a photo of a feature they like – such as a white kitchen or an industrial living room– or select a favorite photo from another MLS listing. Available to MLSs via Restb.ai's MLS Match, agents and home buyers can now search for properties in an immersive and personalized way.
Benefit: Agents can recommend this new tool when working with clients who struggle to articulate what they want but know it when they see it. By using visual examples, you can help clients more easily communicate their preferences and can help them find their dream home more quickly.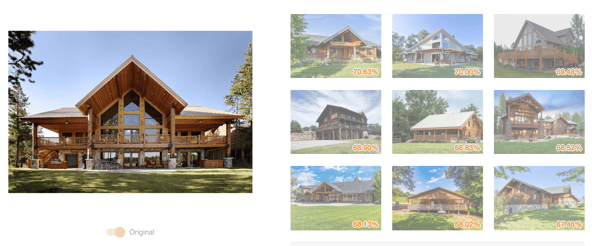 Instant property matching based on visual similarities.
The (near) future of computer vision
Looking to the future, the implications for computer vision reshaping everything from how buyers search for a home to how homes are renovated and re-designed are even more profound.
Imagine a world where a potential buyer uploads an image of their dream kitchen, and a computer vision-powered search engine provides a list of available properties with identical or similar kitchens within seconds. It could inform buyers of how frequently those homes are on the market, or, in the event there are no matches, it could provide a renovation plan and budget for other homes on the market. As a result, agents and consumers will see in real time what a new or newly remodeled home could look like – and cost – as they offer "what if" changes.
Alternatively, envision a system that continually analyzes the images of the thousands of properties in your market. At a hyper-local level, it could provide insights on the trends of properties being sold. Are white cabinets becoming more or less common? What is the impact on DOM if the listing photos were taken when the sky was overcast? For a particular property in a particular neighborhood, is it worth the extra $25k to renovate the bathroom before listing? These are all imminent realities that will change the way that homes are bought and sold.
For today's real estate professionals, the challenges – and opportunities – created by computer vision and AI remain in understanding, adapting, and harnessing the potential of these technology tools. Those that take advantage and embrace this opportunity, will benefit from a massive leap in productivity and will ultimately thrive in this new frontier.
CLICK HERE to request a demo or contact our team to find out about how our artificial intelligence technology can enhance your company!
Article originally published on RETechnology.com